By guardian.co.uk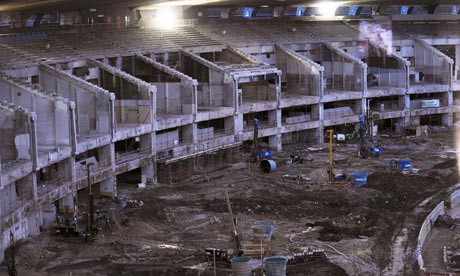 Redevelopment work continuing this month at the Maracanã stadium in Rio de Janeiro. Photograph: Vanderlei Almeida/AFP/Getty Images
Brazil's slow pace of preparation for the 2014 World Cup has been criticised by the controversial Fifa general secretary Jérôme Valcke.

Valcke, making his first public appearance since Fifa exonerated him of wrongdoing for saying Qatar had "bought" the 2022 World Cup hosting rights, said Brazil were well behind schedule on stadium and transport projects.

He told the Inside World Football Forum in Moscow: "There is a lot of work to deliver. We don't have stadiums, we don't have airports, we don't have a national transportation system in place and we are one month away from the preliminary draw.




"The Maracanã is definitely not currently a World Cup stadium and that's why it's closed. It will be ready at the last minute, a few months maybe, even a few weeks before the tournament if they don't speed up the process. In São Paulo they will not even be able to play the Confederations Cup in 2013 because the stadium will not be ready."

Valcke suggested the main aim in Brazil was to win the World Cup rather than organise a successful tournament.

"In South Africa the main goal was to show the world that Africa could organise a World Cup. In Brazil, in a way the main issue is to win it. Otherwise they will talk about failure."

He refused, though, to comment on the corruption scandals that have engulfed Fifa. "I'm here to talk about football. Sometimes at Fifa we need this," he said.